Laura Farris' public meeting
Questions for Laura Farris' Public Meeting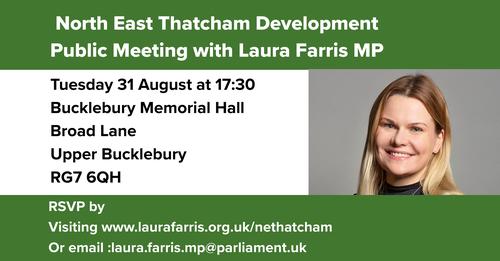 These questions have come from Bucklebury parishioners. There will be some further questions sent directly to Laura Farris' office.
Greenfield vs Brownfield - Boris Johnson said after the Chesham and Amersham by election "we're not going to build all over the countryside". THA20 does just that. Nick Carter, the recently retired Chief Executive of WBC said in interview (p10 NWN, Aug 12th) 'The environment would have been nice, but realistically, given it wasn't a government priority, it would have been difficult.' What steps will you take to ensure WBC follow the PM's guidance?
Size - The Government formula for housing allocation doesn't account for the area in West Berkshire that is subject to development restrictions due to the AONB, two atomic DEPZones and flood zones. You told us that you were meeting Robert Jenrick to discuss this. Could you please tell us the result of that discussion?
AONB - WBC opposed the proposed development of 500 houses at Siege Cross in 2015. Their vigorous defence highlighted potentially devastating harm to the local environment and setting of the AONB. This development site is nested within THA20.
The CPRE report "Beauty Still Betrayed" says that "developments within the setting of an AONB should only take place if it can clearly be shown that there will be no adverse impacts on the neighbouring AONB".
What will you do to avoid public money being wasted on a promoting a proposal that inevitably leads to damage to The Common?
Traffic - 2500 houses will create additional traffic at the level crossing, on the A4 and as rat runs through the villages to avoid the gridlock. This will have a devastating effect on residents, but WBC have produced no analysis or mitigation plan. What steps will you take to prevent your constituency from grinding to a halt?
Schools/Healthcare - The number of new residents will put impossible strain on local schools. WBC recognise this but new schools will be built towards the end of the scheme leaving a generation of children searching for schooling. What steps will you take to ensure every child gets the education they deserve?
A similar issue arises with health care. Our GP services are already oversubscribed. A large single development will lead to a service breakdown.
Community cohesion - The community is not opposed to new homes. It is opposed to THA20 because of its size, concentration, lack of community links damage to our AONB and the strain on community services. What steps will you take to persuade WBC to consider a plan involving several smaller developments?
LF's plans - If the new proposed constituency boundaries are approved, would you prefer to stand for the constituency that will then contain Newbury and Thatcham, or the 'mid Berkshire' constituency that will contain Bucklebury and the Pang Valley?