Bucklebury Tennis Club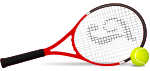 We are a small village club offering family, social and competitive tennis to all who live around the Parish. We have two all weather courts, both with floodlights. Membership is on an annual basis.
The Club calendar includes general Mix-ins, tournaments, league and free use of the courts to all members. Coaching and fitness sessions are organised for group sessions or available on an individual basis.
All aspiring players as well as those already established in the game are always welcome.
Age or ability is no barrier to joining; and visitors are most welcome.
The Courts and facilities are available to visitors on a Pay & Play basis.
For more information please go to our website.