Bucklebury Cricket Club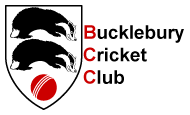 Come and play cricket for Bucklebury CC.
Whether your are a seasoned player, someone who is new to the game, or someone who played long ago then you will enjoy joining the Bucklebury Badgers. Play regularly or just the occasional game.
We have matches between April and September on Sunday afternoons (normally starting at 2pm, some are shorter 20/20 games) and on Wednesday evenings (20/20 games, 6pm start). All are 'friendlies' against other local village teams (although some matches are more keenly fought friendlies than others).
Our home games are play at the Douai Park Cricket Ground, Cods Hill, Upper Woolhampton, Reading RG7 5TG.
For more information see our website.