16th August 2021
Campaign Update - 16th August 2021
North East Thatcham Development Public Meeting
We thank Ms Farris for arranging the Thatcham North East Development Public Meeting and welcome her to the Memorial Hall on 31st August 2021 at 5.30pm. If you haven't already booked your place please do, or if you can't make it there is an opportunity to share your thoughts on the proposed development in Thatcham North East on the online form:
https://www.laurafarris.org.uk/nethatcham
It is important for her to see solidarity among her constituents that are against the development, so please either attend or share your thoughts with her!
To register to attend the Public Meeting you can use the form on the link above or email Laura Farris on laura.farris.mp@parliament.uk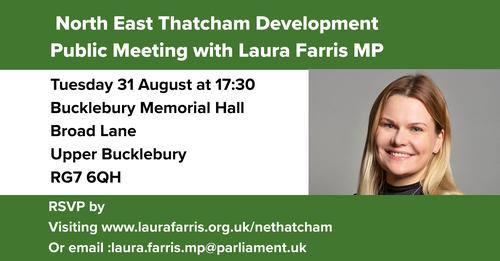 Residents' Survey
You may also have received a Residents' Survey through your door. Please take this opportunity to share your thoughts on local issues. When completing the survey online there is a comments box allowing you to express your views or concerns. You can use this to highlight your concerns about the Thatcham NE development. You can use the paper form you received through the door or you can complete the survey online here:
Laura Farris Residents' Survey
We hope to see as many of you as possible at the Public Meeting.
Thank you, as always, for your continued support.
The Working Group